Jonathan Walton completes the 2007 London Duathlon
9th September 2007 accompanied by family and friends (with Champagne but only after!), I had a go at the Duathlon at Richmond Park
I beat 137 people in my class of event. 120 of those were younger than me!!!.
I finished 31st in my category position.
Pictures as below:- (click to enlarge)
At the beginning, waiting to be called (pooping myself to be honest!)

Still at the beginning, looking calm and collected
Just crossing the starting line Only 19.9k to go!

Running! strangely enough, the young lady and I spent most of the race together!!!

On my new specialized bike (using the TT bars!!!). I was very pleased with my bike time as I finished in the top half for that part of the race. The bike is only a few weeks old and I haven't really got used to the position and the dynamics let alone those funny clipless pedals!!!

Running the second half of the course, very close to finishing 1hr 34 with a sprained ankle!

Keep going!! Just yards away from the finishing line

I am assured by his mother and also my great friend the lovely Jane Kennedy, that the white stuff around his nose is ice cream

Charlie giving me lots of encouragement.

Me taking my feet out of my Shimano's so that I could leave the shoes on the pedals and run through transition in my socks!
My transition time for T1 would have been better if some idiot hadn't knocked my bike off the stands when getting their own out spilling my banana juice from my profile bottle!!
me at the end with my medal of honour!

Walking back from transition with my bike and bag.

Front of medal (Charlie thinks its gold!)

The back!!
Medal and Ribbon!!!
These are the official photographs from the event photographers.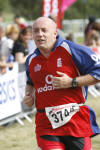 at the finishing line
That is one sexy bike (I bought it when my wife wasn't looking!)
Whilst delighted with my left leg definition and its muscles! Most of my right leg has gone missing!
I make no apologies for the shorts! Its what one wears for these things!
proper running, feet of the ground!!!!!!!!!!!!!!!!!!!!!!!!!!!!!!!!!!!!!!!!!!!
My favourite picture of me on my Specialized Transition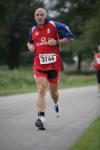 Looks like I dislocated my shoulder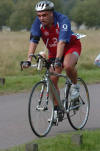 Great bike picture (did the bike 10K in 26:34 including T2 time)
OK, now have done Blenheim 10k (30th September 2007) and it was great. Have raised about £450! Thanks to ALL my sponsors. Managed 52:45 which is pretty OK.
Before the run with my little monsters
The medal

The official photo's from peak photography will be here in the next couple of days.